Marco Deluxe Instrument Stand
The Marco Deluxe Stand offers a modern look, fully-featured instrument console, and long-lasting quality and durability.
The Deluxe Stand combines a fresh, updated appearance with Marco's traditional standards of performance, function and durability. Innovative features include a re-designed lower slit lamp arm with an integrated connection for Ultra M-Series slit lamps and a modified refractor arm/instrument pole that provides convenient routing of exposed cables.
FEATURES
Full-featured flat overlay switch panel controls the slit lamp, chart projector, accessory instrument, overhead room lights, lamp brightness, chair elevation, and voltage for a corded instrument
Efficient counterbalanced refractor arm provides one-handed, immediate three-way locking of the refractor
An electronic release button for slit lamp arm adjustments and a chair elevation switch are both conveniently located on the lower slit lamp arm
Integrated low-voltage adapter plug accommodates Ultra M-Series slit lamps
Attractive overhead lamp features multiple adjustments, rotation stops and an on/off switch
Traditional electrical outlet
Special "cable channel" accommodates cabling from electronic and illuminated refractors
Instrument pole with pre-cut holes to accommodate cabling from mounted instruments
Adjustable ratchet handles provide secure locking of the slit lamp and lower slit lamp arm
Three rechargeable instrument wells and three 115V electrical outlets
Scuff resistant, high-impact base and Marco's standard ten-step, hand-finished painting process
SPECIFICATIONS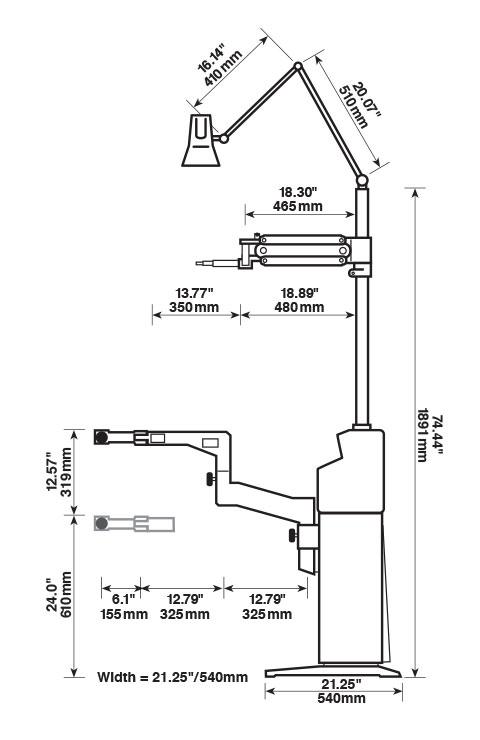 A Division of Advancing Eyecare™
© 2023 Lombart Healthcare All Rights Reserved.
Lombart Healthcare is committed to keeping our site accessible to everyone. We welcome feedback on ways to improve the site's accessibility so it is easy for everyone to navigate.
Free shipping is only available for online orders in the continental United States.
Certain exclusions apply. 
Exclusions include, but are not limited, to the following products:
Acuity Systems & Projectors, Chair & Stand Accessories, Autorefractors, Lensmeters, Keratometers, Portable Slit Lamps, Stools, Tables, Tonometers, Trial Lens Sets.